Todd M Waage, 58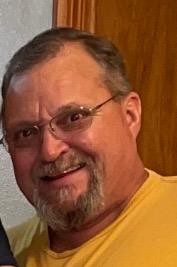 On Sunday, July 31, 2022, Todd M. Waage passed away at the age of 58 at the MercyOne Heart Center in Des Moines due to complications from heart surgery. A visitation will be held from 5-7 p.m. on Wednesday, August 3rd at the Sietsema-Atkinson Funeral Home in Hampton. A private family burial will be held at a later date.
In lieu of flowers, memorials may be directed to the Waage family for later disbursement.  Memorials can be sent to Lori Waage, PO Box 478, Latimer, IA  50452
Todd was born on February 1, 1964 in Belmond, Iowa to Lew and Judy (Stahl) (Waage) Crump.  He grew up in Goodell and later moved to Hampton where he graduated from Hampton High School.  After high school, he attended Hawkeye Tech in Waterloo.
Todd worked at several local manufacturing businesses that added to his trade skills.  He was currently working for Sukup Manufacturing as a welder for the last 15 years.  
He married Laura (Lori) Freese, on October 14, 2006 in Hampton, Iowa and they started their home in Latimer where he lived until his passing.
He loved cooking family recipes and trying new things on this Traeger smoker, spending time with family and friends, playing games on his Playstation, riding his motorcycle around Clear Lake with his wife, taking pictures of nature, and rooting for the Iowa Hawkeyes.  He was know for his humorous personality, storytelling, and jokes.
Todd was preceded in death by his father Lew Waage, his father-in-law Harm Freese, and grandparents.  He is survived by his wife Lori Waage, his mother Judy Crump, his mother-in-law Alida Freese, his brother Steve Waage, and sister Jill (Waage) Steel, sister-in-law Maurita Sietsema and her husband Pat, sister-in-law Jodi and her husband Scott, brother-in-law Randy Freese and his wife Tracy, several aunts, uncles, cousins and many nieces and nephews.
Category:
Mid-America Publishing
This newspaper is part of the Mid-America Publishing Family. Please visit www.midampublishing.com for more information.