John Edward Showalter, 71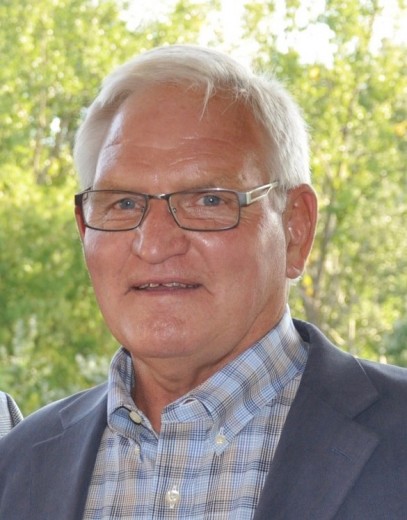 John Edward Showalter, 71, of Hampton, passed away at his home on November 17, 2022. Funeral services was held at St. Paul Lutheran Church in Hampton, IA at 10:30 a.m. on Tuesday, November 22nd. Visitation was from 4-7 p.m. on Monday, November 21st also at St. Paul Lutheran Church. Services will be live streamed by St. Paul Lutheran Church. Private family burial will take place at the Hampton Cemetery. Funeral arrangements are under the guidance of the Sietsema-Atkinson Funeral Home in Hampton
John was born January 26th, 1951, in Hampton, IA to Helen (Dohrmann) and Kenneth Showalter. In his youth, he was very active in 4-H, enjoyed riding horses, and spent his formative years working on the farm alongside his dad, mom, and siblings. He also spent a great deal of time working and playing with other neighboring farm families at a time when that was very common.
After graduating high school as a 2-time Iowa high school wrestling state runner-up, John attended Iowa State University, on a full scholarship and was a member of Alpha Gamma Rho fraternity. John was a member of the ISU wrestling team and during his four years, ISU finished 1st, 2nd, 1st, and 1st at the NCAA National Tournament. John bid his time and eventually earned time on varsity and a letter his junior year. As a senior, John made the starting lineup and had a very successful season. At the Big 8 Conference tournament, he suffered a serious shoulder injury, but was still able to place 4th and qualify for the NCAA Wrestling Tournament. At the NCAA tournament, John was defeated by an eventual 2-time NCAA Champion, but still managed to wrestle back and finish in the top 8, which in today's era would be considered an All-American.
After college, John began farming full time with his father, and later his brother Jim, oldest son Matt, and his two nephews Sam and Jake. During his farming career, John sold Dekalb seed corn, and in the early 1990's, was one of the largest independent Dekalb seed corn dealers in the state. He farmed his entire life. John was also a member of the Hampton school board for 28 years and served his church, St. Paul Lutheran, in various capacities over his life.
Anyone who knew John, knew how much he loved his family and his boys. Some of his best days were spent cheering on his children and grandchildren in their various activities. He attended hundreds of sporting events, dozens of band concerts, FFA banquets and high school events. His sons estimated he likely recorded 2,000 wrestling matches over the years on a VHS recorder for his sons and their teammates and he loved every minute of it.
John and Nancy married in 2004 joining two families and a total of seven children between them. They went on many traveling adventures to China and all over the United States including Alaska and Hawaii. Together they were consummate hosts to not only their children and grandchildren, but also for Showalter family reunions and their famous weekends at "The Hamptons." From tractor rides to their koi pond together the two of them helped build lasting memories for their grandchildren at their beautiful farmhouse.
John was at his best when he was telling a story to his family and friends and was known for being able to light up a room when he entered it. John didn't have many hobbies as he was constantly on the move and those who knew him, knew that his foot was firmly on the gas pedal. He absolutely loved playing cards with his good friends and having a good time with anyone willing to partake.
Our request for friends and family: Please tell us your John Showalter stories in written form. They will bring us great joy in the years to come. You can e-mail them to MemoriesofJohnS@gmail.com or mail them to one of the family members.
Those left to cherish his memories include: Wife: Nancy Showalter, Sons; Matt (Jori), Brett (Cathy), Quinn (Sarah), Drew (Ali). Stepchildren Matt, Brian (Cassandra) and Lindsay Marron.
12 Grandchildren - Jack, Emma, Charlie, Luke, Sophia, Gabe, Owen, Will, Graham, Amelia, Vivian, John
and 3-step grandchildren: Jayden, Grayson, and Adaline.
Siblings: Mary (Lynn) DeSotel, Chris (Wes) Johnson and Jim (Jean) Showalter.
Preceded in death by his parents Ken and Helen, and infant sister Lynda.
Category:
Mid-America Publishing
This newspaper is part of the Mid-America Publishing Family. Please visit www.midampublishing.com for more information.