Donald Richard Fink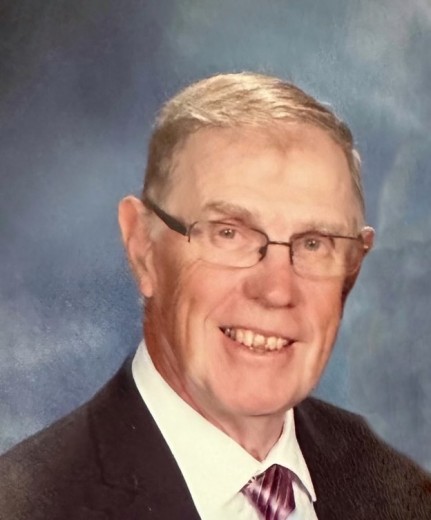 Donald Richard Fink passed away peacefully with his wife and children by his side on May 28, 2023 at Franklin Country View in Hampton.
Public visitation was held from 4:00 p.m. to 7:00 p.m., Wednesday, May 31, 2023, at Trinity Lutheran Church in Hampton, IA. Funeral services took place at 10:30 a.m., Thursday, June 1, 2023, also at Trinity Lutheran Church in Hampton. Counsell Woodley Funeral Home is caring for Don and his family.
He was laid to rest in Trinity Lutheran Church cemetery in Hampton.
Don was born on August 19,1940 to John and Cecelia (Lubkeman) Fink in Hampton, Iowa. He graduated from Hampton High School in 1958 and spent his entire life farming the land that he loved. He married Beth Heifner of Clear Lake, on June 26, 1965 and together they raised three children on their Heritage Farm.
Don's life centered around God, his family, and his farm. His faith was as strong as his work ethic, and his family was his love. He was baptized, confirmed, and a faithful member of Trinity Lutheran Church. For decades, he scooped snow off the lot with Wendell Schmitt in the wee hours of the morning so that everyone entered safely. He had a compassion for helping others while expecting nothing in return. Even though he would never admit it, he took pride in the compliments from the neighbors on his hay crop. One of his passions was helping maintain the beauty of the church cemetery, where he would eventually be laid to rest. Don never missed any of his childrens' events despite working from sun up till sun down on the farm. Don's grandkids were his pride and joy and he created memories of a lifetime for them. He made the best snow piles to sled down, gave long gator rides, and loved taking them to the creek. Even as his memory faded, he remembered the traits of each of his beloved grandchildren and smiled with love and pride. He was a loyal Hawkeye fan, proudly sporting his gold cap, despite living amongst a family of Cyclones. Upon retirement three years ago, Don kept busy. He attended his grandchildren's games and concerts, chopped wood, planted flowers, and mowed the yard, the ditch, the grove, the waterways, well, you get the picture. Despite his failing health, his faith remained steadfast and his caretakers were drawn to his humor and kindness. One of his final blessings was getting to hold his first great-grandchild, Kayleigh Mae.
He was preceded in death by his parents, father-in-law and mother-in-law, Clair and Florence Heifner, brothers-in-law Dan Kirkham, Larry Windelow, and Alan Abel.
Left to carry on his memory is his beloved wife of 57 years, Beth, children Kristy (Matt) Abbas of Alexander, Jolie (Lee) Crawford of Sigourney and Jason (Becky) Fink of Hampton, Grandchildren Drew (Emily) Abbas, Tyler and Levi Crawford, and Abigail and Elijah Fink, great-granddaughter Kayleigh Abbas, sisters Dolores Kirkham, Joan Windelow, brother Dean (Judith) Fink, sisters-in-Law Ina Lee Abel and Judy Heifner along with many other special nieces and nephews.
The family would like to express their deepest appreciation to the staff at both Franklin Country View and Care Initiatives Hospice for their compassionate love and care for Don.
Category:
Mid-America Publishing
This newspaper is part of the Mid-America Publishing Family. Please visit www.midampublishing.com for more information.