Charles Baltes, 95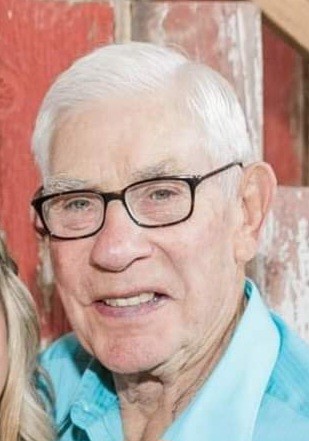 Charles Baltes, 95, of Hampton, passed away on Friday, May 26, 2023 at Franklin Country View in Hampton. Funeral services will be 10:30 a.m. on Wednesday, May 31, 2023 at St. Patrick's Catholic Church in Hampton with burial in the Ingham Township Cemetery. Visitation will be from 5-7 p.m. on Tuesday at the Sietsema-Atkinson Funeral Home in Hampton. In lieu of flowers, memorials will be given to St. Patrick's Catholic Church, Franklin County Fair Association and MercyOne North Iowa Hospice.
 Funeral arrangements are under the guidance of the Sietsema-Atkinson Funeral Home in Hampton. 
Charles (Chuck) Eugene Baltes was born January 10th, 1928, the son of Leonard and Mary Baltes near Duncombe, Iowa. He graduated from Hansell High School.
Following graduation, Chuck served in the Armed Forces, stationed in U.S. Army 407th Combat Engineer Battalion. He was very proud to serve his country.
Chuck came home to farm and truck with his father and brothers after the army. He met a beautiful young woman, Shelby Miller, at the local Hampton café. A year later Chuck and Shelby were married at the St. Patrick's Catholic Church rectory on December 1st, 1956. They had three sons and eventually moved to the home farm east of Hansell. Chuck raised Holstein cattle, hogs, corn, beans and hay. Many fond memories were made at the farm. In the fall of 1995, Chuck and Shelby built a house in Hampton and their youngest son, Jon, moved to the farm. Chuck continued to farm with his brother, John and son, Jon. He loved driving the semi and hauling grain until the age of 86.
Chuck served on the Franklin County REC board and Farmer's Mutual board for many years, was a member of the Hansell Community Center board, Dumont Legion, on several bowling leagues, was a Pride Seed dealer for several years, was a baseball coach for the Hansell Red Legs, and a member of 4-H and FFA.
Chuck was a man of many things. He never met a stranger, whether near or far from home. Chuck was always up for Shelby's vacations and adventures, enjoying the beautiful mountains, hiking, and biking.
His family always came first and he enjoyed children of all ages, especially his grandchildren and great grandchildren. He taught all his grandchildren and some of the great grandchildren his signature style of sticking his finger in the piece of cake he wanted and licking his bowl of ice cream clean. He had many stories to share of his shenanigans' with his brothers and stories of his many friends. We will greatly miss these stories and his finger in the many cakes!
The thing we will remember the most are his hands of a gentle giant that could bend steel and a touch that could heal your pain.
Chuck will be greatly missed by the love of his life, Shelby, along with his sons, Mark (Cyndi) Baltes of Aurora, Illinois, Steve (Kim) Baltes of Indianola, Iowa, Jon (Nadine) Baltes of Hampton, Iowa. His eight grandchildren, Haley (Dan) Goulson, Jenna Baltes (Bob Singorelli), Erin Baltes, Kylie (Cody) Bales, Bethany (Jason) Volk, Tyler (Abby) Baltes, Hannah (Dan) Freie, Katelyn Baltes (Tate Holmes). His 14 great grandchildren, Lyric, Lily, Carter, Cora, Cooper, Hadley, Brinlee, Hudson, Lennyn, Finley, Blakely, Greyley, Hayden, OakLynn and another one on the way.
Chuck was preceded in death by his parents, brothers Richard and John and sister Coletta Ammann.
Category:
Mid-America Publishing
This newspaper is part of the Mid-America Publishing Family. Please visit www.midampublishing.com for more information.