Alice Mae Dohlman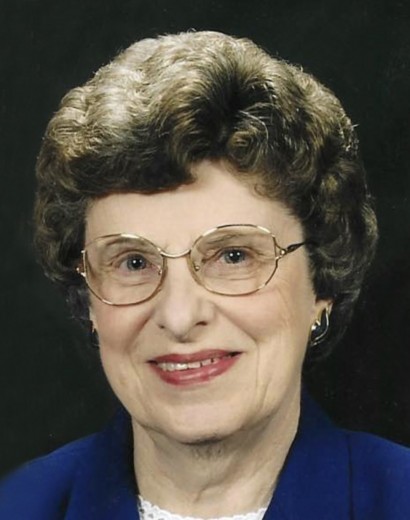 Alice Mae Dohlman, a long time resident of Hampton, Iowa, died on Thursday, July 28th at her current residence in Kansas City, Missouri. Funeral services will be held at 10:00 a.m. Saturday, August 6th at the Trinity Lutheran Church in Hampton. A visitation will be held prior to the service starting at 9:00 a.m. Burial will be in the Hampton Cemetery. Counsell Woodley Funeral Home of Hampton is caring for Alice and her family.

Alice was born December 19, 1929, the daughter of Karl and Anna Lubkeman at the family farm home near Chapin, Iowa. Alice became a child of God through the Sacrament of Holy Baptism on January 26, 1930 in the Trinity Lutheran Church in Hampton, Iowa. On June 18, 1944, she confirmed her Baptismal vows at the Trinity Lutheran Church in Hampton.

Alice received her elementary education in Franklin County, Marion Township #2 and #3 schools. She graduated from the Franklin Consolidated High School in Latimer, Iowa with the class of 1947. She attended the American Institute of Business College in Des Moines, Iowa.

On January 8, 1950, Alice was united in marriage to Delos Dohlman at the Trinity Lutheran Church in Hampton. Three sons were born to this union: Wayne, David and Darwin.

Alice maintained an active interest in serving her Lord throughout her lifetime. She served as a teacher in Sunday School, Midweek Bible School and Vacation Bible School over a period of 15 years while a member in her church at Hampton, and later as a member of her churches in Algona and Grinnell, Iowa. She was an active member of the Lutheran Women's Missionary League. She was also a member of the Franklin General Hospital Auxiliary.

Alice was employed in business offices for more than 25 years. She worked at the Franklin Rural Electrification Association (REA) and later at the Federal Land Bank in Hampton, at the Algona Public School Administration Offices in Algona, Iowa, and served as Deputy City Clerk for the City of Grinnell, Iowa.

She is survived by her three sons: Wayne Dohlman and wife Rebecca from Kansas City, Missouri; David Dohlman and wife Jackleen from Flower Mound, Texas; Darwin Dohlman and wife Julie from St Peters, Missouri. Alice is blessed to be survived by eight grandchildren, ten great grandchildren and one great-great grandchild. She is also survived by her sister, Mavis Claypool of Hampton.

Alice was preceded in death by her husband, Delos Dohlman, her father and mother, Karl and Anna Lubkeman and by her brother, Melvin Lubkeman.
Category:
Mid-America Publishing
This newspaper is part of the Mid-America Publishing Family. Please visit www.midampublishing.com for more information.